Trail Tips
Thousands of people enjoy a variety of recreational activities on our shared trails in all seasons. With these trail tips, it's easy to have a great time while staying safe, respecting other trail users, and keeping trails beautiful for the future.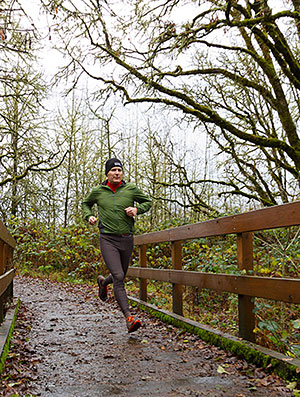 Photo by Ricardo Small
Before you go
Dress right for the trail—check forecasts and pick footwear and layers suited for the weather, and accessories like hats, sunscreen and raingear to protect you from the elements. Cyclists and horseback riders should wear protective helmets.
Be prepared with essential gear:

Bring a map (you can print trail maps from each page) and compass.
Carry water and stay hydrated.
For longer trips or remote sites, consider packing the ten essentials.

Pay any applicable site fees and display permits according to directions.
Park in designated parking spaces. Lock vehicles and take valuables with you.
Regulations vary for different trails, and may change seasonally to protect natural areas and wildlife.

See the yellow "Know Before You Go" box on each trail page to determine if you can take your dog and whether or not your dog needs to be leashed.
You can be a great trail visitor!
Practice common trail etiquette — bikers yield to all other trail traffic. Hikers/runners yield to horseback riders. On trails or access roads shared with motorized vehicles, all other users yield to motorized vehicles.
Please respect listed park hours, rules and seasonal closures.
Stay on trails, avoid cutting across switchbacks to protect trails, surrounding landscapes and vegetation. Stay clear of unofficial trails and private property next to parks and natural areas.
Leave no trace—pick up after pets, avoid littering, and put refuse in trailhead containers.
When visiting trails with your dog, please follow leash rules for the site. If dogs don't respond to vocal commands, please keep them leashed.
Stop the spread of invasive species that threaten natural areas and habitats. Stay on trails (and keep pets with you) to avoid picking up the sticky seeds of invasives. Take a moment to clean your gear and animals when entering and exiting trailheads to remove seeds of invasive plants—a cheap scrub brush is a great tool!
Don't collect or disturb plants and wildlife—keep our natural areas beautiful!
Safety Basics
Stay oriented and know where you are in relation to the trailhead. Identify routes to leave the site in case of emergency. Carry a phone so you can get help in an emergency, but know that not all phones may get coverage at all locations.
Be alert to your surroundings and consider avoiding headphones. Go with friends, or if traveling solo, let others know your route and expected return time.
If you see illegal or unauthorized activities, leave the area right away and contact appropriate authorities and the trail manger.
Safety in natural areas
Poison oak. Learn how to recognize its distinctive three shiny, lobed leaves, avoid contact, and clean skin, clothes and pets with Tecnu soap after possible exposure.
What to do if you see diseased or injured wildlife:

Do not approach or touch, but do what you can to protect them from other animals or people.
For domestic animals in Benton County, contact Benton County Sheriff's Office Animal Control at: 541-766-6789. For wild animals found in the Corvallis area, call Chintimini Wildlife Center Hotline at: 541-745-5324.

What to do in the rare event that you see a cougar or bear:

Stay calm and do not run or make sudden movements. Pick up children without bending down or turning your back on the animal, and back away slowly.
In the very unusual event that the animal attacks you, fight back with rocks, sticks, tools or any items available.
Report any incident immediately to the Oregon Department of Fish and Wildlife or the Oregon State Police. This information is from Oregon Department of Fish and Wildlife.